"I'm always safe for my lovely wife, Patricia. And, our best friend, Cutie."
Greq Qualls, Manufacturing Craft Specialist; Patricia, his wife; And their adorable pet, Cutie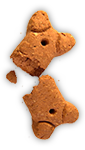 "Safety is the best tool I have."
Learn more about Greg and Patricia in this Q&A.
Greg, what got you to enter the construction trades?
It started with me painting my mom's mantel as a kid in 6th grade. She eventually had me do the dining room and I liked seeing the results of using my hands.
Where did you get your training?
In the U.S. Army. I learned a lot in the Army as a Bridge Engineer. Then, of course, on the job… nothing like hands-on working with higher level workers.
What is the favorite project you've worked on while at Tradesmen?
Working in Parkman, building a water treatment plant. There was a lot of underground work. We built forms, ran pipe and filled around the pipe with mortar and cement. I like all the projects I work on because I like doing different things.
What do you like about working for Tradesmen?
They've always been there for me; they go out and find you work. I've been through some hard times personally and they were there for me. They even came to see me in the hospital when I had a kidney removed. They're like family.
You have an exceptional safety record, nearly 30,000 hours and no accidents. What drives you to be safe?
I promised Patricia almost 20 years ago that I'll come back every day. That I won't be calling from some hospital after doing something stupid. I'm safe because I love her. I'm safe for all things I care for and love, including our dog Cutie.
What do you and Patricia enjoy doing together?
Oh, we go to a lot of places together. We like going out to eat at nice restaurants, to the park, taking walks with our Cutie… listen, I'm safe because I don't want her to imagine life without me. We're a Loving Couple. Three if you consider Cutie (he laughs).
I guess I'll say, "Make no bones about it. I'm safe for the two cuties in my life."
Tell us about Cutie, your dog?
Well, she knows when I get home… she senses it. She lets my wife know and then jumps up on me. She's a good dog.
Any final comments on Safety, Greg?
I think it's important to tell others on the jobsite what to do when it comes to safety. I'm not afraid to tell someone when they're not being safe, whether that's not wearing the right gloves or leaving a tripping hazard on the ground. I teach them. And,they know I'm safe… and I think that I set a good example to them to be safe.
Reserve Greg, or one of our thousands of other craft professionals like him, here.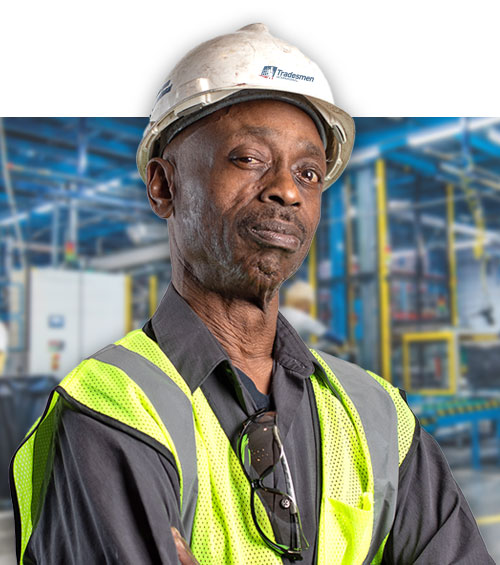 Devise a skilled staffing plan today
With a CORE + Flex skilled labor strategy, Tradesmen provides a no-cost labor productivity consultation.
We help contractors plan to run a lean staffing solution comprised of their core full-time workforce. 
Request a Free Consultation