We recently chatted with Tim Taylor, a new Project Coordinator from our Norfolk, Va staffing office, and a retired Damage Controlman Chief Petty Officer, about his experiences at Tradesmen and his tenure in the Navy: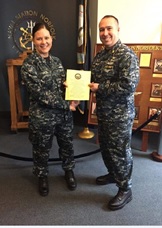 How long have you been with Tradesmen?
I was hired as a Project Coordinator in November 2017. Prior to joining to joining Tradesmen, I was enlisted in the Navy.
What do you like most about working at TI?
Helping the folks that come in get on the job. Getting the field employees out. When they come in to pick up their paycheck and give you that big smile from across the office…that's really fulfilling.
Will you talk a little about your military experience?
I was in the Navy just under 18 years; I medically retired in October. I was a Damage Controlman Chief Petty Officer and my specialty was shipboard firefighting. Post fire, I did all the investigations and interviews with anyone involved – often fires start electrically or due to unauthorized smoking. My secondary job was a millwright…so there is a bit of a tie-in with Tradesmen.
I spent time on three surface ships, two amphibious assault ships and one destroyer. I did several sea tours where I would be gone for seven to twelve months at a time. Of all my travels, my favorite place was Souda Bay on the northwest coast of Crete.
My wife and I met in the navy in 2003 and got married in 2013. She is still active and will deploy in the summer for her next tour. She is set to retire in four years and we would like to come to Cleveland…perhaps I can get a job at the Corporate office.