Exploring Construction Industry Growth Trends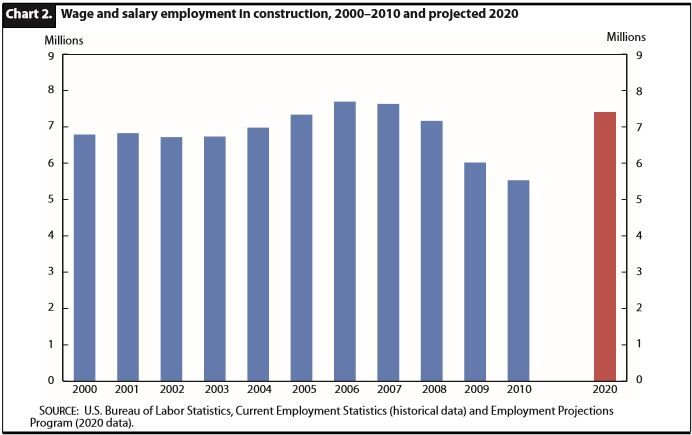 The construction industry is booming and experts expect growth to continue. The Bureau of Labor Statistics and a report from Timetric's Construction Intelligence Center (CIC), project the construction industry to be one of the fastest growing industries into 2020.
There is currently a skilled labor shortage in the construction industry due to the recession's hard hit. But with increased work, the construction industry will have a higher employment rate than the overall economy. Construction has a 4.5% projected growth rate over the next several years, making construction staffing the leading industry in wage and employment growth.
What are the Fastest Growing Construction Markets?
Professionals predict the construction industry will have one of the largest increases in real output, reaching almost $1.2 trillion by 2020. Upcoming efforts to modernize the United States' decrepit infrastructure will create such output.
The renewable energy sector will also be booming over the next few years. The follow through of new laws is key here. The government plans to make renewable energy 20% of the country's total energy mix by 2020. This includes 10,000 MW in subsidized housing and 3.0 GW in military capabilities by 2025. With continued climate change issues, federal and state governments are pushing for renewable energy sources. These plans are big business for construction companies.
The U.S. population is expected to grow from 321.2 billion to 338 billion. This increase of people results in a rise of residential housing as well. This will escalate residential construction to the top of the growing markets' list.
The government plans to raise the budget by 1.9% to support home ownership, sustainable community and housing developments. This also provides access to affordable housing for homeless and vulnerable families.
Commercial construction will also continue to grow. With more consumer spending and governmental investments in tourism, office buildings and retail space, commercial construction businesses will reap the rewards.
Which Construction Markets are Declining in Growth?
Electric utilities construction is expected to slide by approximately 9%, which will continue the current downward trend. With the high number of construction starts that were reported during 2011-2012, more projects are now coming on line. This results in the capacity utilization rates staying low, limiting the need for new construction. Combined with the new investments into sustainable, renewable energy, this market will continue to decrease. Another market that is expected to decline is manufacturing plant construction. There was a huge increase during 2014 (up 57%), which reflects chemical and energy related projects, but that number is expected to slip back to a more stable 16% over the next few years.
There are many moving parts to the construction industry. And they continue to grow rapidly. Keep up with the demand by using Tradesmen International, a trusted construction staffing company. We'll match your needs with skilled labor and vetted craftworkers from our network. Fill out our contact form and get skilled labor for your next project.